Dear Conference Attendees & Sponsors,
Due to the Covid-19 pandemic the Greater Ohio Showmen's Association (GOSA) has decided to cancel the 2021 Midwest Safety & Operations Conference scheduled to take place March 1 – 3, 2021.
We look forward to seeing everyone at the next conference which will take place February 28 – March 2, 2022 at Kalahari Resort, Sandusky, OH.
Any NAARSO certification earned last year is good for two years. Examinations passed in 2020 have an expiration date of 2022. You can verify your certification by logging into your membership account at naarso.com . Click the "Member Login" button on the website and choose "forgot password" to reset your access. For any issues or questions contact Sherrie Kontos at 813-661-2779 or info@naarso.com.
If you would like to take classes in 2021 the annual NAARSO safety school will be held January 25 – 29 with in-person and virtual training options.
The GOSA would like to thank the 2020 sponsors for making the Midwest Safety & Operations Conference a success and asks everyone to support these organizations in 2021.
If you have any questions, please contact Eric German at 216-765-3610.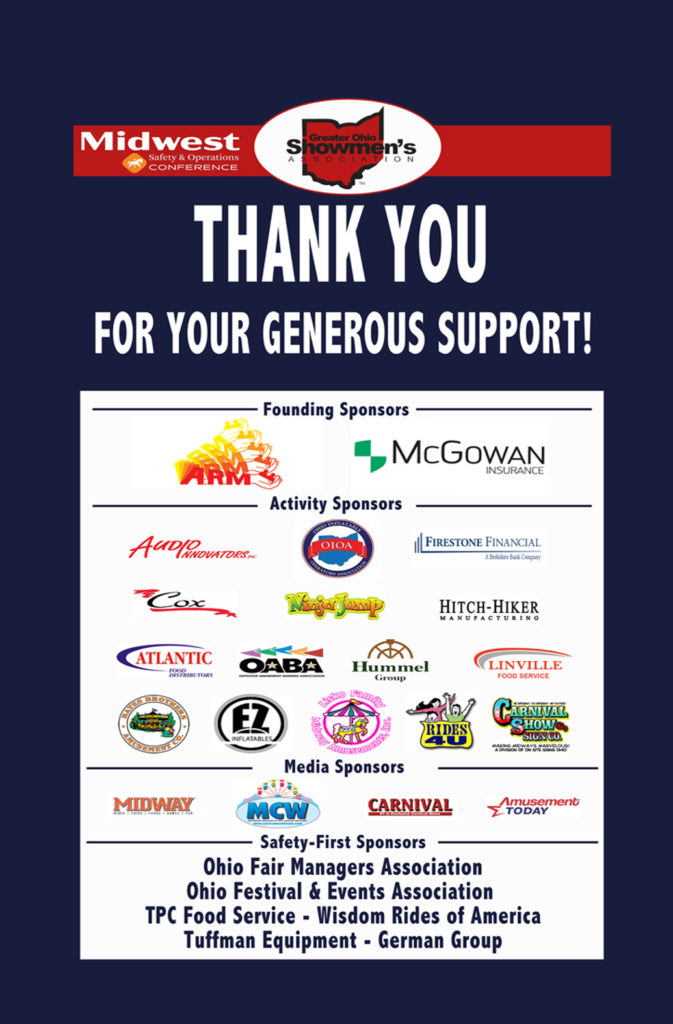 2022 safety Conference will be February 28 -March 2, 2022
Click HERE to read an article from Amusement Today about the 2020 event held March 2-4 at Kalahari Resorts, Sandusky!